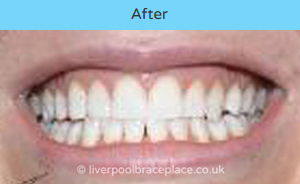 Many patients dream of having whiter teeth. Over time, our teeth become stained by food and drinks such as coffee, while habits such as smoking can further stain the teeth. Teeth whitening treatment uses special tooth whitening gel to gently remove stains and bring teeth back to a natural, dazzling bright white colour.
Our practice uses the popular Enlighten home teeth whitening system, which comprises teeth whitening gel and bespoke whitening trays that are made to exactly fit your teeth. Enlighten is the only system that guarantees a B1 shade of whiteness, regardless of the starting shade of your teeth.
You should place a small amount of whitening gel in the trays and wear them overnight for the period your orthodontist prescribes - typically between two and three weeks, although this will vary from patient to patient.
Once you have completed your course of home treatment, you will also have a session of treatment in the practice, with a stronger concentration of whitening gel applied to your teeth. All you need to do is sit back and relax while the gel does its work - you will leave that same day with a beautiful, bright white smile that you will be eager to show off.
Back to Orthodontics