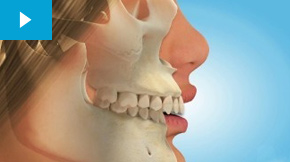 An overjet is the technical term for protruding upper teeth – when teeth in the upper jaw stick out beyond normal contact with teeth in the lower jaw. In the past people referred to this condition as buck teeth. It can cause social embarrassment, as people are prone to hiding their teeth when they smile. It also leaves the upper front teeth more prone to injury, particularly from trips, falls and sporting accidents, because their protruding position means they are less protected than teeth that are aligned properly.
Protruding upper teeth can also be indicative of other problems in the mouth. In particular they often indicate poor bite of the molars (back teeth), which affects how you chew your food, and an unevenness in jaw growth.
There are many factors that can cause an overjet, but the most common causes are a lower jaw that is short or underdeveloped compared with the upper jaw, and childhood habits such as thumb or finger sucking that persist when adult teeth start to come through.
Why should an overjet be corrected?
There are several reasons that an overjet should be corrected at the earliest opportunity possible, and several orthodontic solutions available to help. Reasons you should visit an orthodontist if you have an overjet include:
Helping the front teeth function properly
Improve the look of your smile, boosting your self-confidence
Prevent premature wear
Prevent your front teeth being more vulnerable to accident and trauma
Improve how your molars (back teeth) bite together



If you visit us at The Liverpool Brace Place to correct your overjet, our caring, professional team will first carry out a thorough orthodontic assessment to diagnose your problem and recommend a course of treatment.

In most cases, braces can be used to gently move your teeth into a better position. Fixed braces, with either tooth-coloured or traditional metal brackets and wires, are a common treatment for child and adult patients. A popular option is lingual braces, which act much like traditional metal braces but are fitted to the back of your teeth for maximum discretion. Your orthodontist will talk through the options for treatment in your individual case, and will recommend the best course of action in your treatment plan. Back to Orthodontics