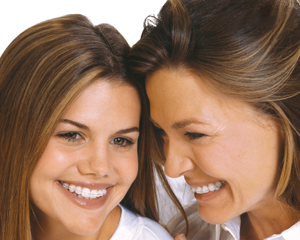 Many people falsely believe that orthodontic treatment is only for children and teenagers. In fact, orthodontic treatment can help patients of any age. Anyone who feels their teeth are not as straight as they would like should consult an orthodontist.
At The Liverpool Brace Place we believe you are never too old for braces, and if we can help you achieve a better smile with braces, we'd like to do it for you. Studies show that millions of people have oral health problems that could benefit from orthodontic treatment, both adults and children alike.
The British Orthodontic Society recommends that every child should see an orthodontist sooner rather than later. Sometimes problems are spotted by parents, the family dentist or doctor, and early examination enables the orthodontist to spot problems more quickly, to evaluate them and to determine the appropriate time to treatment.
In some cases your child may not start treatment immediately. In some cases early treatment can achieve results that would be impossible once the face and jaws finish growing, and in any case early intervention often makes completion of treatment at a later age easier and less time-consuming.
These days, orthodontic problems can be corrected in adults as well as children, with a number of solutions available to a range of problems. In many cases treatment is less time-consuming and more discreet than patients ever imagined possible.
Common orthodontic problems include:
Crowding
Overjet (protruding upper teeth)
Deep overbite
Open bite
Gappy teeth
Crossbite
Class III (protruding lower jaw)

If you're over 18 and would like to discuss straightening your teeth, why not contact our friendly practice today to discover what we can do to help? Back to Orthodontics